Advancing Eye Health With State-of-the-Art Technology
Early detection, precision monitoring and advanced treatment of eye disease at our Raleigh optometrist office.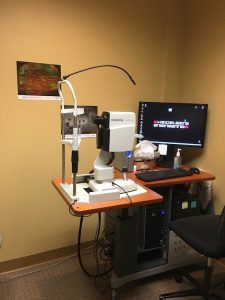 Technology is dramatically changing how we detect and measure changes to eye health.
New tools give our optometrists an unprecedented ability to map, measure and monitor important changes to the eye.
We can detect and monitor eye disease with precision, giving you the best chances to treat or manage chronic conditions and preserve eye health.
Find out how you can benefit from the advanced diagnostic technology at Stonehenge. Contact us.
Technology Available at Stonehenge
Our optometrists are trained and highly experienced in the latest technologies including the following:
Optical Coherence Tomography (OCT) is a non-invasive imaging test that takes a very detailed look at your retina and optic nerve. We use it to gain important clues about retinal health and to monitor the progression of serious diseases such as glaucoma, age-related macular degeneration (AMD) and diabetic eye disease.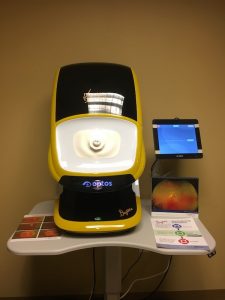 The Optos Optomap Retinal Exam is a unique, painless way to image your retina using laser technology. Your retina is the only place in the body where blood vessels can be seen directly.  This helps us track changes to your retina over time and is a proven way to detect diseases like diabetes, stroke, heart disease, and hypertension sometimes even before you experience symptoms! Our doctors recommend getting these photos every year!
Diopsys Visual Electrophysiology is a set of advanced diagnostic tools that help our doctors analyze the entire visual pathway for visual and neuro-visual disorders. The Visual Evoked Potential (VEP) and Electroretinography (ERG) provides information about the health of the back of the eye which is critical to vision. It can provide advanced warning for many serious conditions with the retina, macula, optic nerve and visual system. Think of it as similar to an EKG, but for your eyes.
Macular Pigment Density Testing (MPOD) is useful to determine if you are at risk of macular degeneration. Our doctors can monitor changes to an important pigment in the retina that is associated with good vision and an indicator of disease progression.
AdaptDX is a test that has the power to identify your Dark Adaptation which is the earliest warning sign of age-related macular degeneration (AMD). Nearly 1 in 8 adults over the age of 60 suffer from AMD. It is a progressive disease that causes a part of your retina called the macula to slowly deteriorate. AMD is the leading cause of adult blindness in developed countries but with the AdaptDx we have the ability to catch this disease before it's too late.
iZon Wavefront Aberrometry helps our doctors detect higher order aberrations which are irregularities that affect vision. We use this information to make highly customized corrective lenses.
Pachymetry is a tool that measures the corneal thickness. In addition to being used in preparation for corrective surgery (such as LASIK), this test can tell our doctors if your cornea is swollen. Medical conditions such as Fuch's Dystrophy can increase fluid in the cornea. Even over-wearing your contact lenses can sometimes lead to significant corneal swelling. Pachymetry is also important in glaucoma care.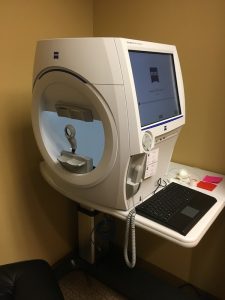 Visual Field Testing measures your central and peripheral vision. It helps us detect and monitor the severity of glaucoma, damage to the visual pathways of the brain and other optic nerve diseases.
Innova Rabin Cone Contrast Test detects changes associated with eye and neurological diseases. It is sensitive enough to detect the severity of cone deficiency and can determine hereditary and acquired color deficiency in a single test. It is used to detect and monitor acquired color deficiency in eye disease and poor retinal health. With this technology, we can identify patients at risk of developing diseases, recognize and intervene in these diseases earlier than before, detect progression and evaluate treatment efficacy.
LipiFlow is the only FDA cleared medical device for Meibomian Gland Dysfunction (MGD) shown to restore gland function. It is a revolutionary way to treat Evaporative Dry Eye caused by MGD. LipiFlow is specifically designed to effectively remove blockages from meibomian glands, allowing them to function properly and produce the oils that make up the top protective lipid layer of your tear film.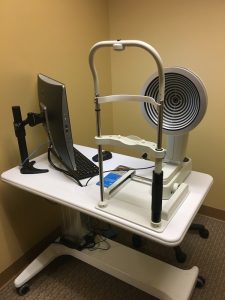 OCULUS Keratograph is an advanced corneal topographer with a built-in real keratometer and a color camera optimized for external imaging. Unique features include examining the meibomian glands, non-invasive tear film break-up time, tear meniscus height measurement and evaluating the lipid layer which helps our doctors accurately diagnose Dry Eye Syndrome. If treatment (like Lipiflow) is needed, we can use OCULUS to compare the before and after treatment results to evaluate success.
If you are concerned about your vision or are at risk of a medical complication that could affect eye health, then talk to us.
The optometrists and staff at Stonehenge are dedicated to early detection, disease management and ensuring that you have the best, most healthy vision possible.